What to do for company secretarial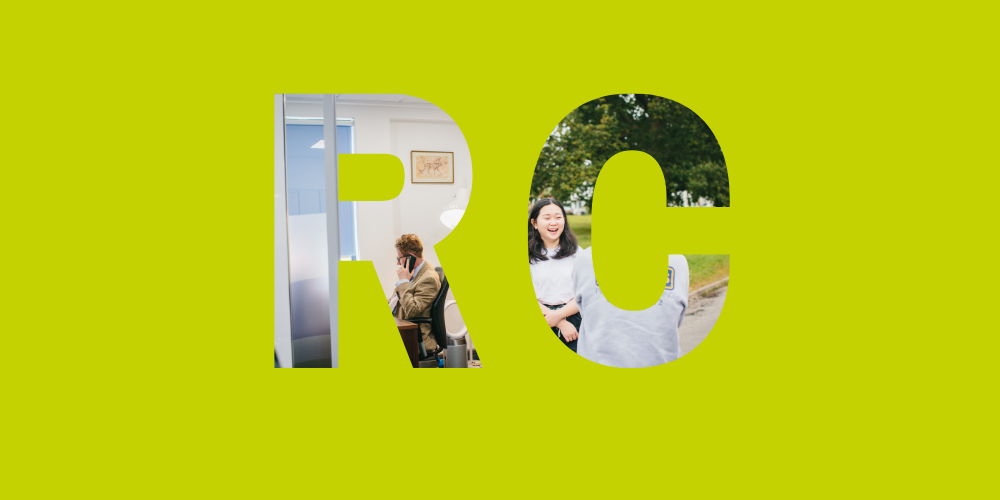 What to do for company secretarial
Company secretarial duties are an imperative part of running a business as a limited company, and yet, most directors are unaware of these administrative responsibilities despite being ultimately responsible for ensuring they are complied with. Failure to complete company secretarial duties can lead to heavy penalties, or even having your company struck off, so it is always strongly advised that you understand what to do for company secretarial, even if you decide to employ a company secretary.
What is company secretarial?
The company secretarial refers to the essential function of ensuring a business follows good corporate governance, carries out effective administration and complies with all legislative requirements. In essence, the duty of a company secretary is to make sure the rules of running a business are abided to from a legal, ethical, and corporate point of view. The company secretarial duties are broad in nature, and although often overlooked or mistakenly believed to be unimportant, require a strong awareness and understanding of several aspects of the business in order to be completed adequately.
Who needs to complete company secretarial?
As the name may suggest, company secretarial duties only need to be fulfilled by limited companies. Therefore, if you run your business as a sole trader, there is no need to hire a company secretary, nor complete any of the responsibilities yourself.
All limited companies are required to complete company secretarial. The Companies Act 2006 prescribes who must complete company secretarial depending on the type of limited company. For private limited companies, section 270 of the Act permits that there is no need to specifically appoint a company secretary. Despite this, many companies will still often do so, as without one, the responsibilities to complete company secretarial fall onto the director. However, if the company's articles of association expressly state the requirement for a company secretary, then one must be appointed. The only way to remove this obligation is by a majority vote of the company's shareholders.
Under section 271 of the Act, all public companies must appoint a company secretary to complete company secretarial work. There is no way to remove this obligation as it is made mandatory by state law. Due to the number of stakeholders public companies have, it makes sense to appoint a dedicated company secretary as the main point of contact for corporate governance issues.
What needs to be done for company secretarial?
There are no legal guidelines which stipulate what needs to be done for company secretarial, however all of the following tasks fall within this remit:
Maintaining the statutory books
A company's statutory books are the official record of the key people in the business. This includes directors (it is necessary to also provide the directors' residential address as part of the statutory books), secretaries, persons of interest and, most importantly – all the shareholders with details of their shareholdings. The statutory books must be kept up to date at all times, with a penalty of up to £5,000 for failure to do so. They can be kept in either hardcopy or digital copy, but must be readily available for inspection at the registered office or single alternative inspection location.
Filing of confirmation statements and updating Companies House
The confirmation statement was previously called the annual return. It is made up of similar information as the statutory books and needs to be filed with Companies House annually. In order to be able to file your confirmation statement, you need to gather and provide details of the company's registered office, all the directors and secretaries, their addresses, the address of where your statutory books can be inspected, the company's SIC code (an identification code that Companies House uses to categorise what the company does) and a register of people with significant control. In addition to the annual confirmation statement, the company secretary must update any changes to these details on Companies House within 14 days of the changes occurring.
Filing other company returns
One of the key differences between running a business as a limited company as opposed to a sole trader is the significant increase in filing obligations. Unlike sole traders, who only have to remember the fixed self-assessment deadline at the end of January each year, a company's deadlines are dependent upon the date in which they incorporate and can be further complicated by shortening or extending the company year end. Completing company secretarial includes ensuring annual accounts as well as the company tax return is submitted on time.
Organising company meetings
All limited companies are able to hold two types of meetings. These include a directors' board meeting, in which key decisions are often discussed, and annual general meetings for all shareholders which is where business performance is usually reported. There is no legal obligation to hold either type of meeting, but many companies choose to do so regardless as part of good corporate governance. Where companies do hold board meetings or general meetings, statutory requirements come into force and instruct that all people in attendance at the meeting must be noted down, the minutes of the meeting must be recorded, and if any resolutions are made by majority or unanimous votes that they must be recorded as well. These details should be kept as part of the company's statutory books and confirmation statement. Ensuring board meetings and/or general meetings are organised correctly with enough notice to all relevant parties and the subsequent record keeping of such meetings are therefore a core part of what to do for company secretarial.
Compliance with legal, statutory, and financial regulations
Completing company secretarial responsibilities involves ensuring the company remains compliant with all legal, statutory, and financial regulations. Not only must the company secretary or person fulfilling the obligations keep on top of any changes in the law, but also any changes made to the company's articles of association, as well as any new tax changes from HMRC. Company secretarial responsibilities are therefore of extremely high importance and should not be overlooked as mere administrative tasks.
Communication with shareholders
The company secretary acts as the main point of contact for all company shareholders. They must ensure to distribute company communications in a timely manner to shareholders. Key communications include the distribution of dividends, the registration of share ownership and any transfers or other matters relating to shareholdings.
Signing of legal documents on behalf of the director often fall under company secretarial duties, such as authorising the company's confirmation statement.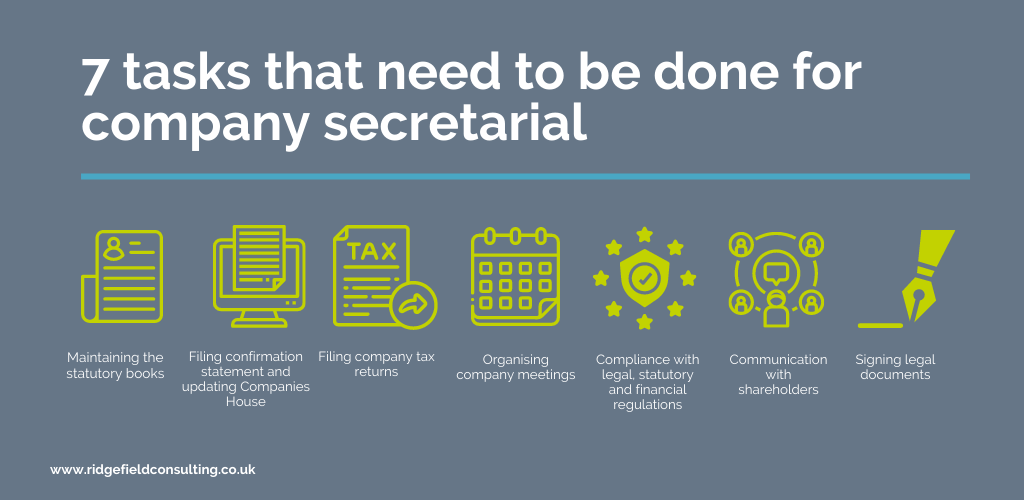 What else does a company secretary do?
The above list of duties is not exhaustive, and the company secretary may also be tasked with key administrative responsibilities such as:
Helping the company register for VAT, ensuring VAT returns are completed and submitted on time
Managing the company insurance and pensions
They may be involved in handling the business' payroll
Administering of share scheme options
Managing the company's premise and facilities e.g. intellectual property, office management, data protection and health and safety requirements
Get help with company secretarial
If the above requirements seem overwhelming, then you can get help with company secretarial. This does not necessarily mean appointing a company secretary, and remember, there is no legal obligation to do so. It is not uncommon for many directors to turn to professional accountants to assist with many of the company secretarial duties as their expertise is well aligned to the tasks involved. Using our company secretarial service can be an excellent solution for small business owners. To find out more and to discuss your business requirements, please arrange a consultation using our online contact form.
If you liked this post or found is useful, why not sign up to our monthly email newsletter? Easy reading, the latest news and information, delivered direct to you.
If you're ready to hire an accountant, then get started by completing our contact form for an introductory call to discuss your needs.
You can find out more about our bookkeeping service.
We hope you enjoyed reading this article. If you would like to read similar posts on this subject here are some more for you.